The cover photo of The Economist in September: DeFi is like a rabbit hole, mysterious but full of opportunities to become rich, making people both curious and scared.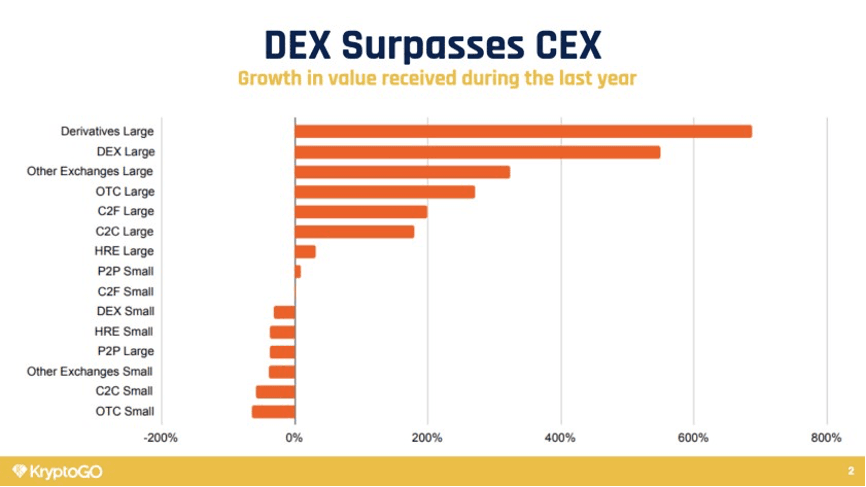 Last year, the trading volume of decentralized exchanges has grown eight times more than centralized exchanges. What's even more exciting is that according to the data on the chain, the number of DeFi users are only 2 % of Crypto users, and we can expect that there will still be a huge potential in the future.

In June this year, the trading volume of Uniswap once surpassed Coinbase.
The reason why there are only few DeFi users is that DeFi has a huge fragmentation problem due to many assets and public chains. This fragmentation will lead to many problems. For example, we can't track the performance o DeFi effectively. If we display our single asset allocation on different wallets, we may get completely different performance and asset balances. 
Even though performance management is difficult, funds are still pouring in. Bitcoin has grown sixfold this year, and DeFi is a hot spot among hot spots, and we've seen a thousandfold growth in the past 18 months. 
DeFi has shown an irreversible trend: the era of Web 3 is coming. 
However, before DeFi becomes popular, the biggest challenge is to face regulatory problems. After all, anonymous finance is a hotbed of crime.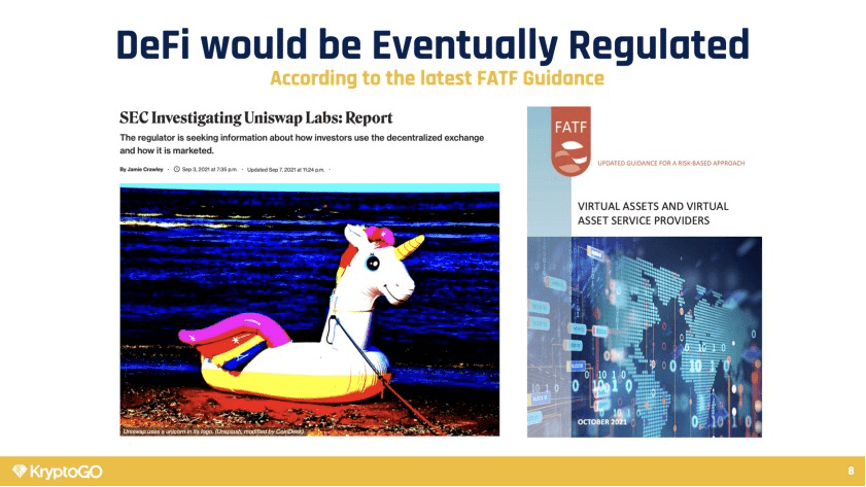 Uniswap Labs were under investigation and "DEX" were on the US SEC's radar.
KryptoGO believes that compliance is the best way to bring out trust. As a manufacturer of Compliance as a Service, we allow our customers to focus on product development and leave the compliance headaches to us. In practice, all you need to do is submit a customer review request via API to our financial monitoring and investigation engine, and we will do the most complete due diligence from the aggregated data, identify features from these information, cross-check out non-compliant information, and automatically generate the risk assessment report. Customers can complete the complete customer identification (KYC-CDD) only by paying attention to the final review results.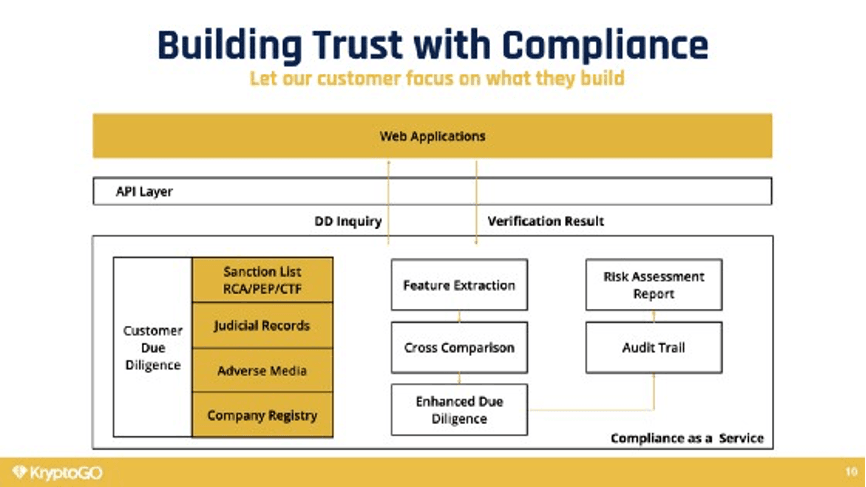 Compliance as a Service
In the past, we helped banks comply with the highest standards through our DD engine, serving 25 overseas branches in 13 countries in the past six months.
As you can see from the regulatory guidelines issued by FATAF last month, the reason why we have been advocating our own KYABC program in the past is because it is possible to meet the latest regulatory requirements by conducting due diligence on funds, natural persons and legal entities through our technology. 
Now, we are taking our technology one step further and bringing it to the virtual currency asset management platform, where we are addressing both the buy-side and sell-side issues. The Buy-side can easily find safe and trustworthy investment targets through the APP without any cryptocurrency basics; Sell-side can efficiently handle asset custody, investment subscription & redemption, KYC/AML, automatic reconciliation, NAV calculation, compliance/regulatory reporting, and performance charts through our management backend. The management back office makes it easy to communicate with subscribed investors.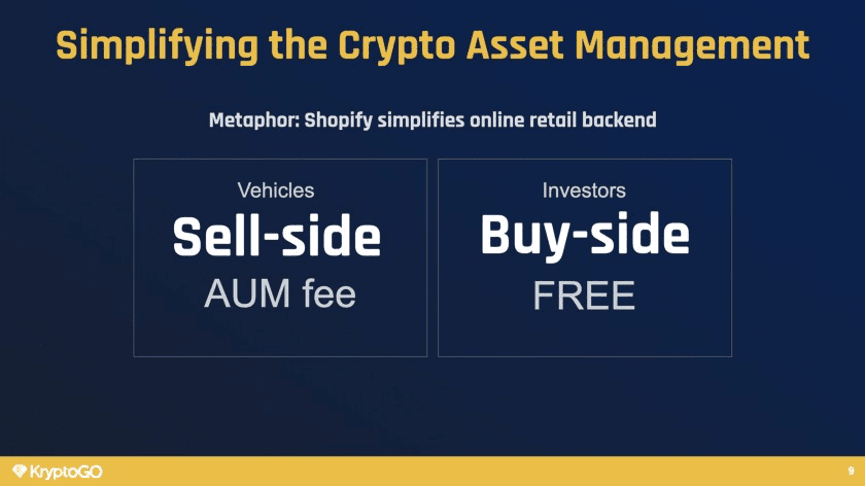 Help the seller set up and manage the Crypto Fund and expand the fund scale in compliance; Help buyers to help them explore reliable investment opportunities.
There are a variety of complex programs on DeFi, which can be greatly simplified in our wallet.
Our goal is to make DeFi easier, so that people can focus on investment and performance tracking, rather than just buying, selling and saving coins.
You will no longer need to focus on which blockchain asset is being used as we can invest in the corresponding underlying and present the corresponding virtual pass-through asset.
Virtual currency asset management will play a crucial role in the future of DeFi. Our wallet focuses on the investment in DeFi to help the seller quickly accept customers. We help the seller painlessly manage any assets, all you need to do is download our wallet and we will handle these things for you.
Many people ask, "Why do we need to make a wallet now when so many exchange wallets are working so sell now?" Exchange wallets do not directly participate in defi, and most of the performance is paid to the platform. There may be dozens of wallets on your phone, but none of them can meet the demand for simple DeFi investment. This is a huge vacancy in the market now: you can easily participate in DeFi investments across chains with just one wallet.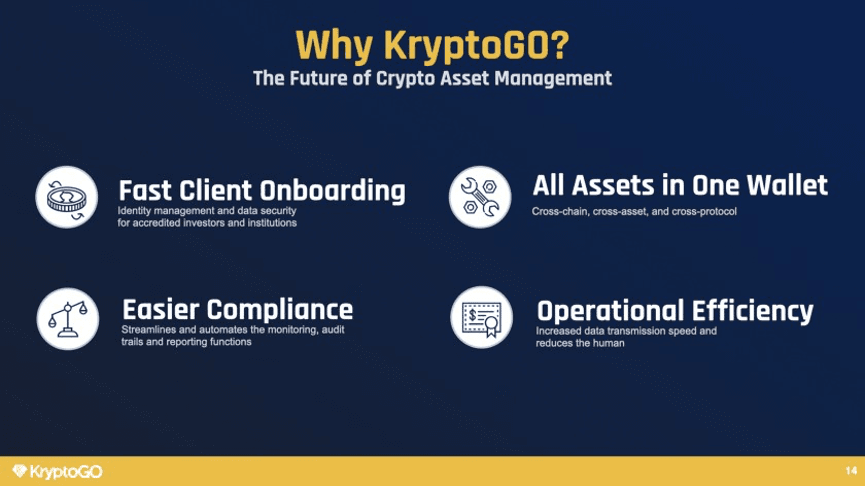 Future virtual currency asset management
We plan to invest more in wallets and asset management. The wallets for investors will be available on APP Store and Google Play next month, and the first compliant virtual funds will be available.
We will combine KryptoGO's experience in traditional and virtual finance to create a Web 3.0 financial passport in a meta-universe, which I believe is a zero-trust society where the financial experience we used to be familiar with will be reinvented.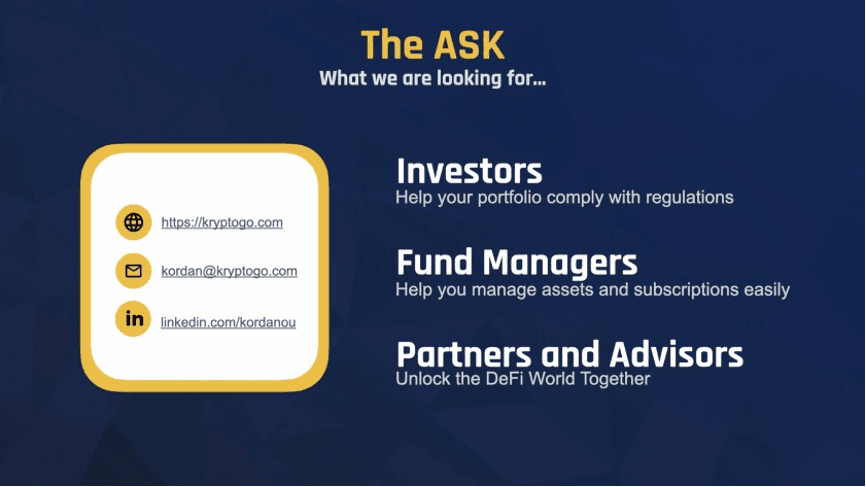 We are looking for partners who share same goals to unlock the mystery of DeFi, feel free to contact us.