3 NFT Tools Help You Manage NFT Assets More Efficiently
NFT has become all the rage since the second half of 2021. Lots of celebrities and brands such as Lindsay Lohan, Adidas and Gucci entered into the fray and issued their own NFTs, which getting many crypto newbies' attention and luring them to participate NFT projects. 
Having multiple NFTs in one wallet becomes a common thing but it also makes managing NFT assets harder and harder no matter you want to track values or stay on top of the trending. Currently the common way of knowing the rise and fall of NFTs you own is go to your profile on OpenSea, click each NFT and check its floor price everyday; therefore, you'll know if this is a timing for sell.
However, when you have more and more NFTs, clicking them one by one will be not feasible. Hence, if there is a tool or an app like Blockfolio (currently is FTX) for NFT which allows users to review all the details such as rarity, amount of increase, history floor price and attributes will save us a lot of time. If you're looking for tools to manage NFT assets, here are some you may find useful:
TraitSniper TraitSniper is a browser extension which allows you to see the rarity ranking of each NFT directly through OpenSea; at the same time, it also displays the current floor price.
Therefore, with TraitSniper, every day you can simply check out your profile on OpenSea, and see if any NFT is listed at a price lower than current floor price. This gives you a signal to adjust selling prices.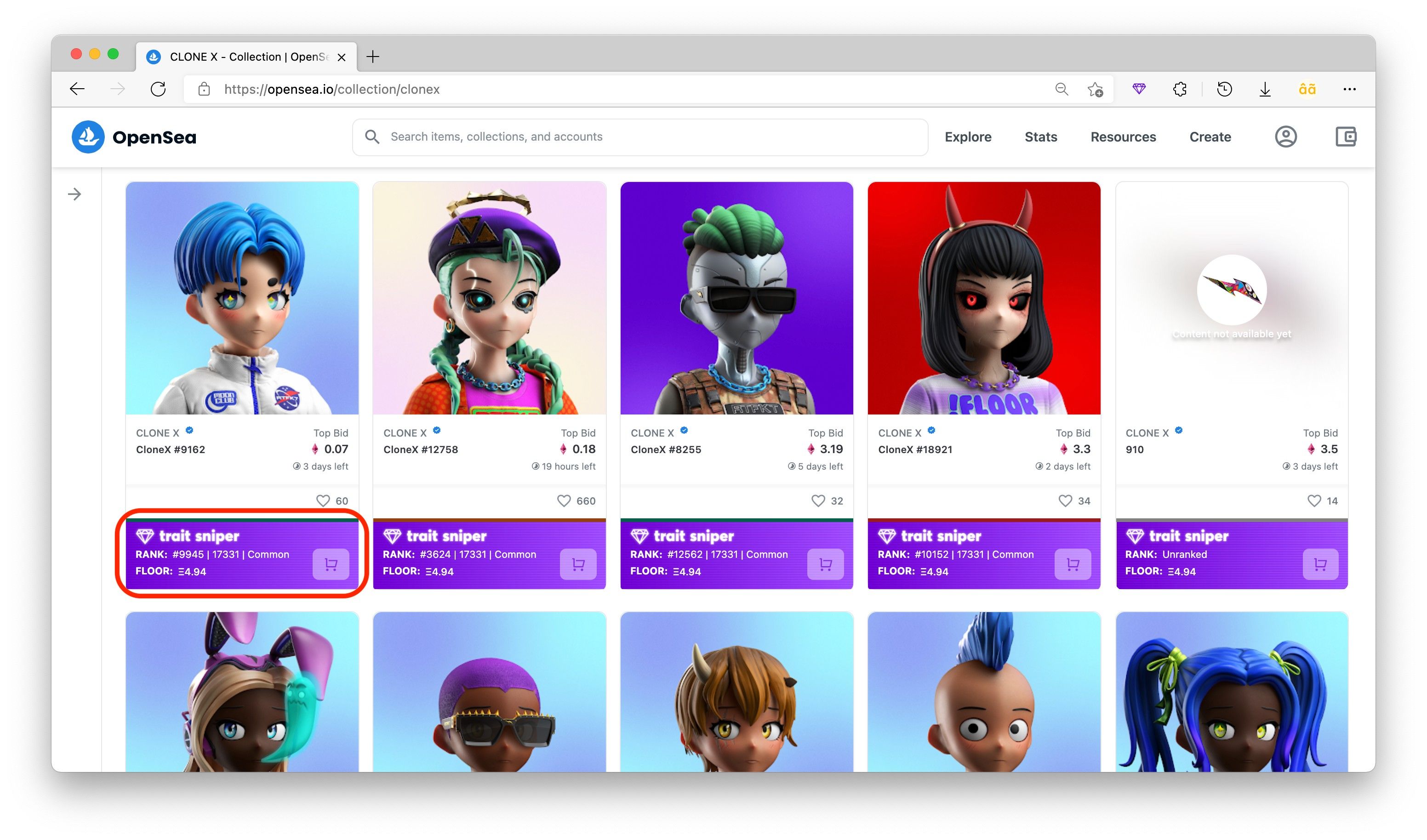 One more advantage of this extension is you can directly go to the NFT projects or accounts that you would like to track and know which NFT is actually listed at a cheaper price compared to the floor price right away; then it helps you make a quick call of buying it instead of spending time on rarity.tools and look up the rarity back and forth. 
Pros: totally free and easy to use as an extension which doesn't acquire any behavior change of webpage browsing. 
Cons: It only provides the information of rarity and floor price. If you want to dig into more details, you'll have to go back to the project pages.
KryptoGO Wallet KryptoGO Wallet]link is a non-custodian wallet which focuses on cross-chain assets management. Lately, it added many NFT details as key features such as floor price, history transactions and attributes. Users can simply review all the information even contract addresses on Etherscan and OpenSea pages. With this one wallet, you can check out the performance of not only NFT collections but also cryptocurrency assets.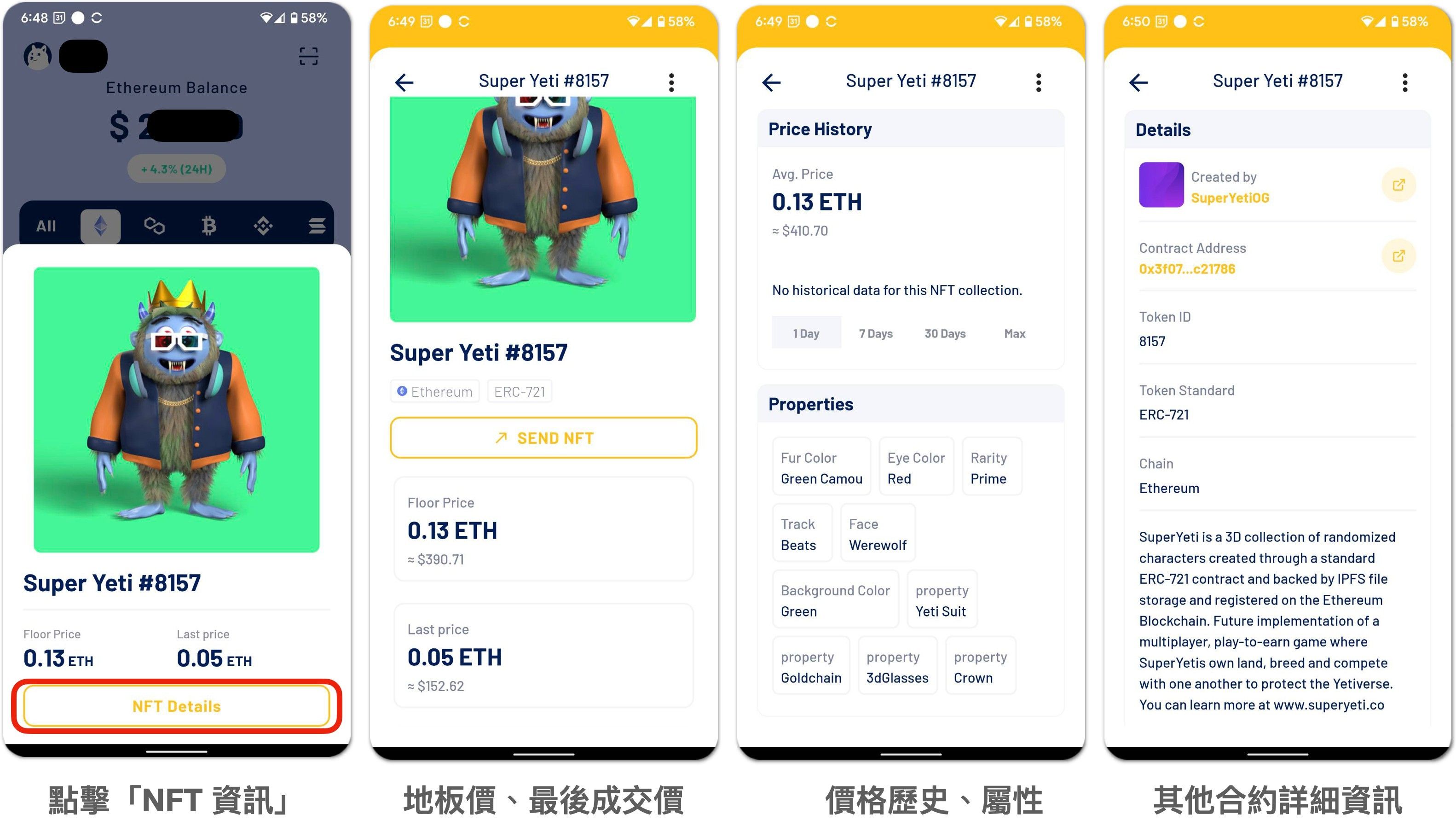 One strength of KryptoGO Wallet is besides consolidating NFT details, it supports the overview of crypto assets across chains including BTC, ETH, BSC, SOL, Tron and Polygon, which allowing users to track their assets in one place and purchase & swap cryptocurrency through the dApp browser directly. Basically this is a tool that can fulfill your basic needs regarding crypto asset management. 
Pros: totally free and user friendly interface. You can check details of NFTs once they're in the wallet. 
Cons: currently it only supports NFTs on ETH and Polygon. 
Floor Floor is dedicated to consolidating all the information of NFT in one app. With the great user interface, you'll be able to track the rise and fall of your NFTs on the Home page. When you click each NFT, it displays many details such as floor price, average price during different time periods and attributes. In the upcoming future, it will also include the transaction activity.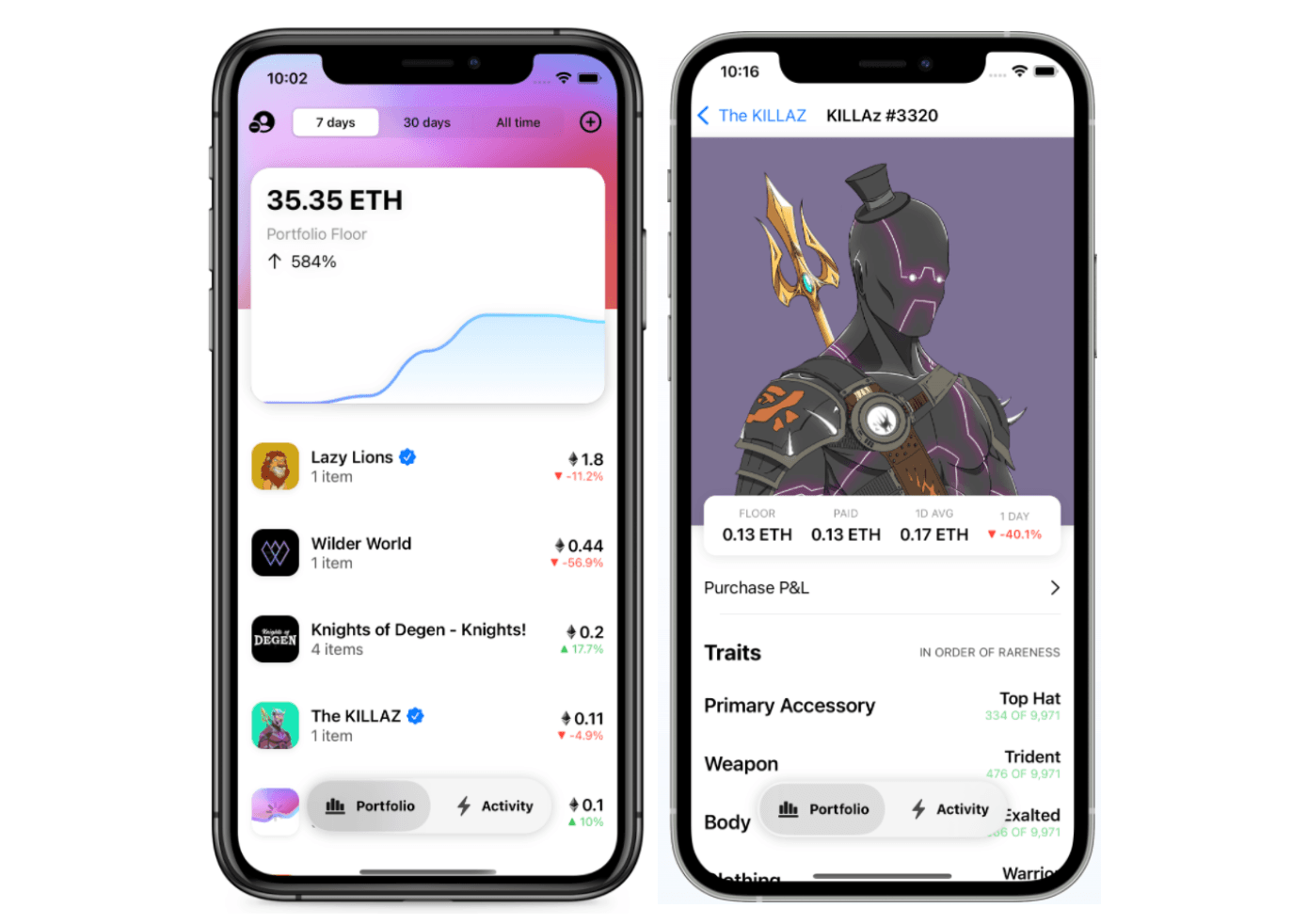 Pros: clear and easy-to-use interface. It'll provide transaction history very soon. 
Cons: It requires users to mint an access token (0.2 ETH) first and then grant access to these features. 
To sum up, TraitSnipper is good for someone who need the rarity information to make the purchase decision. It's not just free for use but also doesn't require additional leaning. If you just need one place to review all your crypto assets and purchase coins directly through dApps, KryptoGO Wallet will be a good choice. Currently, it doesn't charge any fee for using features. Finally, if you have some budget and are looking for a tool that can consolidate all the information of NFT, then Floor is the one for you. Hope what we share today can help you manage NFTs more efficiently. If you know some other useful tools, you're welcome to share with us anytime.
Recommend Articles
Biweekly Dev Update: January 4th, 2023
Biweekly Dev Update: December 21, 2022
Biweekly Dev Update: December 7th, 2022
Hot Articles
Wanting to issue NFT but is complained about the difficult procedure? —Find out what the marketing pain points are from the "distribution process"
3 NFT Tools Help You Manage NFT Assets More Efficiently
Hot Tags
Hot
News
NFT
Blockchain
Defi
Security
Wallet
Compliance
Updates